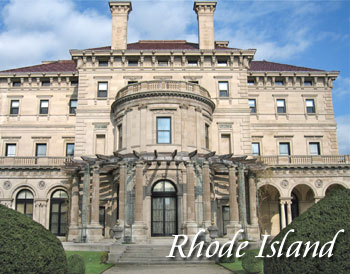 Visit Rhode Island. Unspoiled by progress, the Victorian "treasure island" of Block Island is located approximately 13 miles south of Rhode Island and is separated by the Block Island Sound. Whether you take a ferry or travel by air, this popular summer tourist destination features two historic lighthouses, excellent biking and hiking trails, and many acres of untouched natural areas for migratory birds.
Every summer, Block Island holds its annual Block Island Race Week, a week-long sailboat race, in addition to its annual Fourth of July Parade and the Block Island Arts Festival. Another fabulous attraction is the U-853 U-boat wreck, located seven miles off the coast of Block Island – a great destination for recreational divers.
Visit the area's numerous galleries, antique shops, village stores, restaurants, and inns. The Rhode Island lodging choices include Providence Biltmore, Marriott, Hampton Inn, Hilton, Hyatt, Best Western, Quality Inn, Day's Inn, Motel 6, and others.
FEATURED RHODE ISLAND LODGING
Contact us to add your Rhode Island hotel or lodging property.
Book Online – Top Trip Advisor Rated Hotels in Rhode Island, USA by city
About Rhode Island Travel Destinations
Warwick is the second-largest city in Rhode Island and is home to Rhode Island's largest airport, T. F. Green Airport. T. F. Green Airport serves the greater Providence area and is also used as an alternative to the busy Logan International Airport in Boston, Massachusetts. Warwick, RI is the home of the 43rd Military Police Brigade of the Rhode Island Army National Guard. The city of Warwick is part of the Providence metro market. The Community College of Rhode Island Knight Campus is located in Warwick.
Newport RI Vacations
The oceanfront town of Newport attracts thousands of visitors to view the magnificent waterfront mansions. The famous Newport Jazz Festival still takes place in this beautiful oceanside city every summer.
Include Me shortcode: file not found